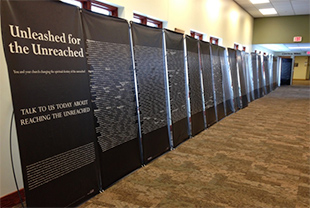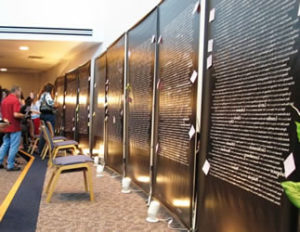 The Wall of the Unreached
The Wall of the Unreached is coming to Palatka. It will be on display at Bert Hodges American Legion Hall, 316 Osceolo Street, 9/30, noon to 7 p.m, and 10/1, 10a.m to 4 p.m.   Sponsors are St. Peter's Anglican Church and Liberty Baptist Church.
The Wall of the Unreached is an 81 foot "Vietnam Memorial" style wall of 27 panels, listing the names of 6000+ people groups who have not yet been reached by the Gospel. A people group is people who are connected through ethnicity, language, culture, and traditions. People groups are not confined to national borders. Some, like the Kurds, who inhabit portions of Turkey, Syria and Iraq, may spread out into several countries, while others may live among the larger people group of a single state. According to the Joshua Project, a ministry devoted to identifying and reaching unreached people groups, there are 482 people groups living in the United States and 83 (17.2%) of them are unreached.
The Wall of the Unreached is an initiative that was developed from the North American Christian Convention in 2011. There are now three walls traveling across the US. The goal of the creators of this project is "to 'shake up' and wake up the global church…Many souls remain untold, untouched, and unchanged by the grace of the Good News of Jesus Christ. These unreached people are non-Christian by circumstance rather than by choice."
There are 16,400 people groups in the world. Of that number 6,600 are considered "un- reached", defined as less than 2% evangelical or less than 5% Christian adherent. Less than one penny given to Christian causes goes to raising up churches among unreached peoples –" less than North Americans spend on Halloween costumes for pets".
David Platt has said in regard to the work of reaching these people groups, "Unreached people are unreached for a reason. They're hard, difficult and dangerous to reach. All the easy ones are taken."
We are inviting the public to visit the Wall of the Unreached to see this sobering, visual display of the Great Commission work yet to be done. Often we forget that Jesus' command to "Go…" is personal. Missionary, Nik Ripkin, has said, "Ninety percent born in church, saved in church, married and buried in church will never share Jesus with anyone." The Wall of the Unreached is a reminder.
Resources: www.joshuaproject.com; U4theU.com